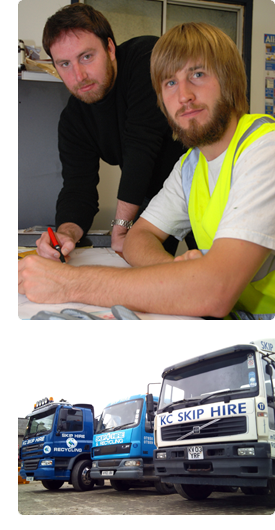 At KC Skip Hire and Recycling we strive to offer the very best in customer service and have built a strong portfolio of clients including local councils, government organisations, healthcare providers and County Down businesses large and small. Our work is not limited to the Down area however as we provide skips and containers to customers in South Belfast, Lisburn and the Ards Peninsula. We pride ourselves on our ability to meet all logistic tasks within our industry and our fleet is versatile and modern enough to cope with any situation. KC Skip Hire and Recycling is committed to the promotion of sustainable development and recognises the important contribution that sustainable waste management can make to the achievement of this objective. Our aim as company is to divert as much waste from landfill sites as possible. We do this by continuous sourcing of material recycling companies and a very precise methods of manual handling and machine assisted waste separation. We have made a pledge to halve the amount of waste going to landfill from our site by 2012 and are well on our way to meeting this target. We are fully licenced waste operatives and our MRF at Shrigley Mill is in a prime location to deliver a fast and reliable service to all our customers. KC Skip Hire and Recycling is committed to:

Caring for the environment and the prevention of pollution.

Operating the business with the objective to achieving the environmental standard and systems required by ISO 14001.

Abiding by all relevant environmental legislation and applicable requirements.

Minimising waste, promoting recycling, reducing energy and raw material consumption and reducing harmful emissions.

Working with suppliers to promote positive environmental actions.

Continually improving our environmental performance by setting objective, actions and targets.

Communicating our policy within our organisation and to the public.
CALL US TODAY!
We were recently nominated in the Best Green Business Category at the Down District Council Business Awards and we intend to continue on our path to success with future plans for expansion and job creation.